Products
We are always adding the newest and most effective product lines to our collection. Below are just some of the products we offer for purchase. If you have any questions, or are unsure about which product(s) would benefit your skin most, call us for a complimentary consultation with one of our aestheticians or nurses. 901-683-1066
*Eden Spa and Laser Product Return Policy
We do not offer refunds on products purchased. Products may be returned for in-store credit within 14 days from the date of purchase. Defective products (i.e., a broken pump) may be exchanged within 14 days for the same product only.
Obagi
Correct the signs of aging skin with the Obagi Skin Care System. Its prescription-strength products focus on repairing the skin at the cellular level, which speeds up its renewal process and diminishes fine lines and wrinkles, sagging skin, hyperpigmentation, and acne. The Obagi Skin Care System consists of Clenziderm M.D., Elastaderm, Nu Derm System, Professional C and Rosaclear. Come in for a complimentary consultation with any of our esthetic nurses to determine which system if best for you.
SkinCeuticals
SkinCeuticals provides you with advanced pharmaceutical grade skincare line proven effective by scientific evidence.  SkinCeuticals complete skincare solutions are recommended and used by dermatologists, plastic surgeons, medi-spas, and other skincare professionals in the United States and in over 35 countries worldwide. SkinCeuticals Corrective Products combine reparative, lightening, and exfoliating ingredients to help rehabilitate the skin, restoring a healthier and more youthful appearance. SkinCeuticals mission is to improve skin health. Dedicated to this purpose, they make one simple promise — provide quality products backed by science.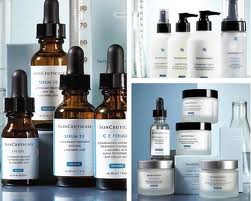 Image
Image Skincare products are developed and formulated by internationally recognized chemists working together with a board of physicians. All Image Skincare products are manufactured in the USA and are unparalleled in their quality in today's marketplace. Their philosophy is to use superior ingredients to achieve outstanding results. IMAGE offers an effective product line for preventing and treating the signs of aging and environmental exposures. Diminish fine lines and wrinkles and reverses the effect of cellular damage. Promotes skin rejuvenation and leaves skin fresh and youthful.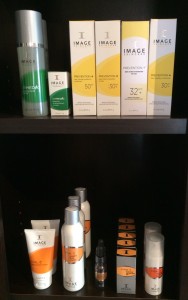 ColoreScience Pro
Sun protection is the fundamental step in keeping skin healthy and beautiful. Sunforgettable's highly refined minerals shield skin from the damaging effects of the sun and environment, helping to defend against the signs of aging. Colorescience sun protection line offers an array of sun care products including (but not limited to) a popular face primer (with a sun protection factor of 30), lip glosses which provide color along with sun protection, and many more mineral type sunscreens. ColoresciencePro is the clear choice for those seeking the ultimate in protecting themselves from the harmful effects of the sun's UVA and UVB rays.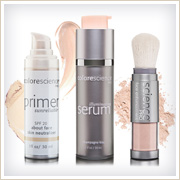 GloMinerals
GloMinerals cosmetics deliver unsurpassed coverage, broad spectrum UV protection and helps combat free radical damage. This clinical mineral makeup line is preferred by dermatologists and leading skincare professionals worldwide. Perfect skin isn't a matter of luck, it's a matter of science. Glominerals makes science beautiful. Glominerals are formulated using powerful pharmaceutical-grade antioxidants, natural, high-pigment minerals and broad spectrum UV protection. These products are designed to deliver a flawless complexion while improving the health and appearance of the skin and protecting it from the outside – in.
LATISSE
LATISSE solution is a growth treatment for lashes. In fact, it's the only FDA-approved treatment clinically proven to grow lashes. And it's the only lash growth product of its kind available by prescription to grow lashes longer, fuller and darker. LATISSE solution is a once-a-day treatment you apply topically to the base of your upper eyelashes, as instructed by our aesthetician. Then, gradually, the results come in. You may start to see more length in as little as 4 weeks and you should achieve full growth in 16 weeks. It's not an illusion of growth. It's your own eyelashes — only better. Discover the LATISSE difference.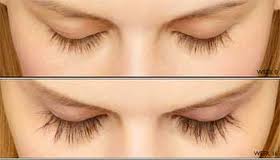 Clarisonic Skin Cleansing System
Benefits beyond just clean skin: Sonic Skin Cleansing improves the appearance of skin tone and reduces the appearance of pore size. Clarisonic developed the sonic technology proven to gently yet effectively loosen dirt and oil to clear your pores. The Sonic Skin Cleansing System uses a patented sonic frequency of more than 300 movements per second to clean, soften and smooth your skin. In just 60 seconds a day, the micro-massage action cleans more than twice as effectively as manual cleansing.
Clarisonic Sonic Cleansing Benefits:
Removes 6x more makeup than manual cleansing
Leaves skin feeling and looking smoother
Cleanses so well that products absorb better
Gentle enough for twice daily use
Helps reduce oily areas, dry skin patches and blemishes
Helps reduce the appearance of visible pores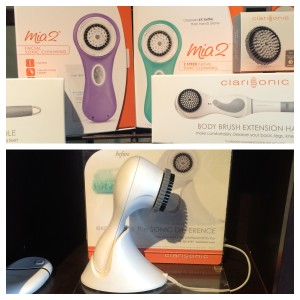 Lifeline Stem Cell Skin Care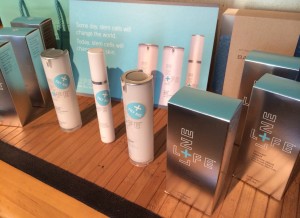 SkinMedica's TNS Line

(www.skinmedica.com/skin-care-products/tns-essential-serum)
RevitaBrow® Advanced
Enhance the look of luxurious eyebrows for dramatic, natural beauty. RevitaBrow Advanced delivers a proprietary blend of scientifically-advanced peptides, revitalizing extracts and nutritive vitamins to help beautify and enhance the look of bold, defined brows.
(https://www.revitalash.com/revitabrow-advanced-i-1.html)