---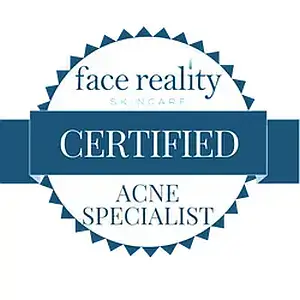 ---
Face Reality Acne Bootcamp
You have tried everything your doctor has prescribed, tested every cream on the shelf, ordered your influencers' favorite fix all, and you're STILL not clear…
There's a reason for it, and we can help.
Sign up TODAY to begin your 12 Week Face Reality Acne Bootcamp.
We offer REAL SOLUTIONS for clearer skin.
You are here because acne is affecting your daily life in one way or another, right? It's keeping you from the confidence you deserve, defining who you are, and stopping you from feeling as great inside as you already look on the outside. You're probably frustrated and about to give up. Well, don't!
What if we told you that your acne does not have to define you? There IS a solution, and we can help!
At Eden Spa & Laser we understand how emotionally draining acne can be, and as your acne specialist I am here to guide you through the entire clearing process.
There are two main reasons that you haven't been able to clear in the past:
You aren't using the right products.
You don't have a plan.
Acne Bootcamp includes a bootcamp backpack full of all successful tools to clear your skin as well as my personal coaching. I am here for you to guide you through the whole journey. You will be given a customized in-clinic and home care plan made specifically for YOUR skin.
How does Acne Bootcamp work?
You and your acne specialist will have detailed consultation about your skin, you will receive your products and either receive or schedule your first in clinic acne treatment. All we require is your commitment and in exchange we will be with you during each step, providing you with the best guidance and all of the tools that you need to clear!
After your initial treatment we will set recurring appointments every two weeks. The Acne Bootcamp is designed to get you clear within 12 weeks. Once you've cleared, we celebrate YOU and your clear skin. You will then be graduated on to the maintenance program.
Don't let acne take control of your life anymore! Start day one of Acne Bootcamp by clicking below!